Troubleshooting
The Troubleshooting section is divided into three areas:
On-premise installation
Desktop installation
Modelon Impact
The two types of installations requires specific troubleshooting instructions. The Modelon Impact application is common for both.
---
Troubleshoot: On-premise installation🔗
Git Token Expired🔗
A git personal access token is often generated to be valid for only a limited time period. Problems experienced accessing git repositories (push/update/...) from Workspace management or from git command line, may be because the personal access token has expired. To check the status of personal access tokens, go to your git service provider web page.
---
Git Update Fails in Workspace Management🔗
If there are conflicts between local and remote updates for a git working copy, the built-in "Update" functionality for Workspace management may throw an error. This error message should guide the user to which files there are conflicts in. These conflicts can currently not be resolved in Workspace management, but need to be resolved in VS code or through git terminal commands to be able to update the working copy through Workspace Management and continue working. To avoid merge conflicts like these, it is recommended for users to work on separate git branches until changes are merged (e.g. when a feature/task is complete).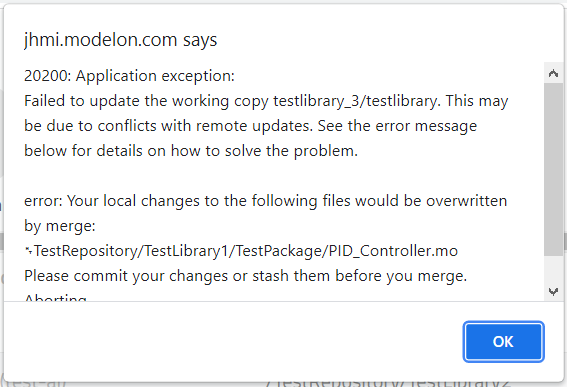 ---
Troubleshoot - Desktop installation🔗
Missing or not working license.🔗
Solution: Go to Installation chapter and check that the license is installed properly. Go through the installation troubleshooting chapter. If this does not help, please contact support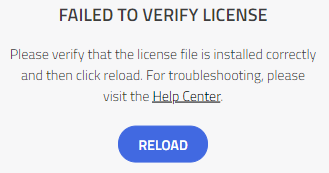 ---
Something went wrong pop up.🔗
The web-browser sometimes gives an error saying: "Something went wrong".

Solution: This can be caused by the server being temporarily unavailable (e.g. network issues). Try to reload the model by F5 or CTRL+R.
---
Model simulation pending / waiting.🔗
This can happen when the connection with server has been interupted and re-connected during certain actions.

Solution: Use CTRL+SHIFT+I, right click on the reload icon and select Empty Cache and Hard Reload.

---
Older Modelon Impact versions cannot be used on the same computer with the 1.0 version🔗
Some users need to have older desktop versions (e.g. 2020.0 v0.29) installed and runnable on the same computer to be able to use special features as e.g. dynamic optimization used in Microgrid application. Modelon Impact 1.0 automatically converts C:/Users/<User_name>/wams into C:/Users/<User_name>/impact deleting the wams folder. When user runs older version, the C:/Users/<User_name>/wams folder is created again and all does seem to work fine till user runs the 1.0 version. Then, an error is populated saying that the 1.0 can not start.
Solution: Before running Modelon Impact 1.0 version, manually rename C:/Users/<User_name>/wams to e.g. C:/Users/<User_name>/bakup_wams. When you would like to run the older version, rename the folder back to C:/Users/<User_name>/wams.
---
In the desktop installation, Google Chrome always starts. User cannot choose a different browser.🔗
Google Chrome is chosen as a default browser. Moreover, it is expected to have it installed in the standard location (C:\Program Files (x86)\Google\Chrome\Application). User has to open a different browser and manually add URL: http://127.0.0.1:8080/ to start working with Modelon Impact.
Solution: Change the default browser location in Modelon Impact installation C:/ModelonImpact.xx.x/startup.py:
def open_browser_with_delay(timeout=60):
    chrome_path = "C:/Program Files (x86)/Google/Chrome/Application/chrome.exe %s"

---
Troubleshoot - Modelon Impact🔗
It is not possible to get the variable description in the results🔗
Hovering mouse over the variable in the Results mode, does not show a tooltip including the variable description.
Solution: It is necessary to go to modeling mode and find the parameter there.

---
Custom function or web-app is not shown in Modelon Impact.🔗
Sometimes a custom function or web-app is not shown in Modelon Impact (not loaded properly).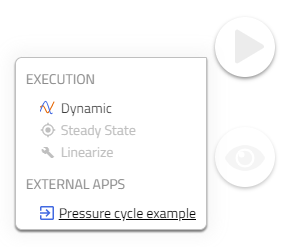 Solution: Check the server log file available in C:/Users/<user_name>/impact/logs. A common problem might be caused by tabs being converted to spaces resulting in unrecognized indentations.
---
Modelon Impact keeps loading page repeatedly without any success.🔗
This can sometimes happen on Azure based servers, when user wakes up a computer from sleep or logs in back after some time. It is caused by broken cookies and cache.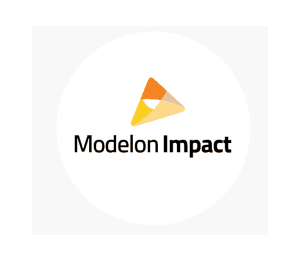 Solution: Save all material opened in the browser and restart browser.
---
Compilation errors🔗
When a model does not compile, an error message is displayed with link to the part of the model source code for further investigation.
Failed compilation result in an error message desplayed below the navigation bar.
An error message contains a link that when clicked opens the code editor and places the view at the relevant code line for further investigation and troubleshooting.